Jaisalmer city is blessed with many spectacular temples & some of them are more than 600 year old.
And today, these temples are major tourist landmarks & must-visit sites for travellers planning to visit Jaisalmer, like Amar Sagar Jain temple and the Jain temples of Jaisalmer Golden Fort.
They are visually stunning in structures & show the devotion of Hindus and Jains towards their religions.
These beautiful temples are built with yellow sandstone, & have breathtaking sculptures, carvings and paintings. So let's see which temples you can visit in and near Jaisalmer.
Note: While visiting the temples in Jaisalmer, it is advised to leave your shoes outside, & not to litter the temple with trash or food packets.
Temples inside Jaisalmer
Inside the massive Jaisalmer Fort, there are 7 (seven) Jain temples and most of them are devoted to Jain tirthankaras or saints.
They all were built around 15th and 16th centuries, and are carved out of yellow sandstone & devoted to Jain munis like
Chandraprabhu
Rishabhadeva
Parasnath
Shitalnath
Sambhavnath
Shantinath &
Kunthunath.
All these Jain temples were built by wealthy traders who prospered along the medieval trade routes that run through Jaisalmer.
The Maharaja's of Jaisalmer granted permission to build these temples, & today you can see these spectacular temples as part of your tour to Jaisalmer.
Along with Jain temples, you will also find Laxminath Temple, a Hindu temple devoted to Lord Vishnu & Goddess Laxmi.
It was built in 1494, and inside you will find finely carved sculptures of gods and goddesses on the walls and ceilings.
1. Chandraprabhu Temple
Chandraprabhu Temple is inside Jaisalmer Fort & devoted to the eighth Jain tirthankar Chandraprabhuji.
It is the first of the seven temples built inside the fort, carved out of yellow sandstone, & was built in 1509 AD.
You will see Rajput architecture in the construction of this temple, as many Rajput rulers gave grants to improve the structure of the temple.
Everywhere you see, you will marvel at the intricate carved sculptures, pillars, walkways or corridors, open courtyards, and magnificent temple architecture of this temple.
The central dome of the temple is the most beautiful sight, with spectacular sculpted figures of gods and goddesses adorning the interiors.
You can climb stairs to go near the sculptures and see details of the carved idols and delicate craftsmanship involved in making these sculptures.
2. Rishabhadeva Temple
Devoted to the first Jain tirthankar Rishabhdev, this temple is considered most important in Jain religion.
As you enter this temple, massive sandstone pillars with intricately carved sculptures will take your breath away.
On the walls, there are exquisite carvings and sculptured idols of Jain tirthankaras in seated positions.
As you walk through the walkways beside the pillars, you can marvel at the walls, which has even more finely chiselled sculptures of gods and goddesses, apsaras, mythical beasts from the Jain religion.
But the central dome of this temple, and the marble idol of the chief deity of this temple, Rishabhdevji is a sight to behold.
3. Shantinath Temple
This temple is inside the Jaisalmer Fort and is devoted to Shantinath, the 16th Jain tirthankara.
Here also the temple structure & detailed carvings are done on yellow sandstone, that makes it a supreme sight to behold, when visiting the Golden Fortress of Jaisalmer.
It is built in the Dilwara style of architecture, and its wonderful interiors and exterior façade impresses whoever sees this temple.
Note: Dilwara style temples are mostly found near Udaipur. You can just google Dilwara Temple Udaipur for more details.
4. Parasnath Temple
Parsvnatha was the 23rd Jain tirthankara, & this temple has beautifully caved marble idols of Parsvanathaji, and is inside the Jaisalmer fort, and know as Parasnath Temple or Parsvanatha Temple
The entrance of this temple is also a magnificent thing to watch, as there are pillars & archways (mandaps) with the most elaborate and artistic carvings on sandstone.
The central dome of this temple is a thing of stunning architectural beauty & you will find carved sculptures in the entire dome, painted apsaras, dancers, male and female gods and goddesses, and many other figures.
As you enter this temple, you can walk among the pillars and see the artistic brilliance with which this temple was constructed.
5. Shitalnath Temple
Built in devotion to Shitalnath, the 10th (tenth) Jain tirthankara, Shitalnath Temple is one of the cluster of temples you will find inside Jaisalmer Fort.
It was built around 16th century, and the more remarkable thing to see in this temple is the idol of Shitalnath, which is made of 8 precious metals.
Besides the idol, you can watch the amazing sculptures on the huge pillars, domes, corridors and temple entrance. The temple has gateways that will eventually lead you to Sambhavnath Temple.
6. Kunthunath Temple
Another spectacular Jain temple in the premises of Jaisalmer Fort is Kunthunath Jain Temple. It was built in devotion to Kunthunath, the 17th (seventeenth) Jain tirthankara.
Built in 1536, this temple is a piece of brilliant architecture and stunning craftsmanship. Carved sculptures, finely sculpted pillars, idols of Jain tirthankaras, and a peaceful ambience is what will attract you most in this temple.
If you are in a mood to meditate of just lie down for some moments of peace, then this is the perfect temple to come.
The white marble idol of Kunthunath inside the temple is superbly decorated.
7. Sambhavnath Temple
Sambhavanath was the 3rd Jain tirthankar of Jain religion, and this temple is dedicated to him. The temple has superb temple architecture and inside the idol of Sambhavnath is decorated with ornaments.
You will find delicate carvings on yellow sandstone in this temple also, and exquisite carved idols of gods and goddesses of Jin religion.
Inside, there is a gateway that will lead you to Gyan Bhandar, an underground library, which has ancient manuscripts related to Jain religion.
8. Laxminath Temple
One of the oldest temples in Jaisalmer, Laxminath Temple is a Hindu temple devoted to Lord Vishnu and Goddess Laxmi.
It was built in the year 1494 AD, & its pillars are believed to have been brought from Lodhruva, a small village near Jaisalmer.
This is a beautiful temple having painted idols of Hindu gods and goddesses.
The temple is a beautiful in itself and though its exterior looks simple, the interiors have awesome architecture and carvings on stone.
Temples near Jaisalmer
1. Tanot Mata Temple
Located 120 km outside the city of Jaisalmer, Tanot Mata Temple has a history that is closely linked with the Indian army & the 1965 war with Pakistan.
It's very close to Pokhran, where the first underground nuclear test was done, & also close to Longewala, where a famous battle was fought with the Pakistani forces.
The temple is said to have miraculous powers, and when 3000 bombs dropped by Pakistani army did not explode, a Pakistani general actually came here to pay his respects at the temple.
Visitors can now see those unexploded bombs in the museum beside the temple. All around the temple, there are vast sands of the Thar Desert, and border with Pakistan is also very close.
2. Lodhruva Temple
The 12th century old Jain temple at Lodhruva, just 5 kms from Jaisalmer is worth going to, because here you see the finest carvings on yellow sandstone.
The temple is a magnificent work of Jain architecture, and inside you will find beautifully carved pillars.
Its ceiling is so beautiful, that watching its intricate carvings can leave you amazed.
A priest still performs pooja inside the temple, and its chief deity is the Jain tirthankara Lord Parshvanatha.
Muslim invaders looted and destroyed this temple many times, but it was rebuilt to make it more visually appealing than before.
All around the temple, there are the golden sands of Thar Desert and the remote location will offer you peaceful and relaxed time.
3. Ramdevra Temple
Ramdevra is a town, 118 km from Jaisalmer, and here Ramdev Temple is devoted to the 14th century saint Ramdev Pir.
The saint is believed to be an incarnation of Lord Krishna, and his miraculous powers were so powerful that even Muslims saints became his disciples.
Today, both Hindus and Muslims come in great numbers from all over India to this temple. Inside the temple, you will find samadhis, or tombs of this great saint, and also those of his disciples.
There is a stepwell, whose waters are said to have healing powers.
Every year, Ramdev Pir Jayanti is celebrated in the form of a large fair, where thousands of devotees come here to pay their respects to Ramdev Pir.
4. Amar Sagar Jain Temple
Drive just 7 km from Jaisalmer, and you will arrive in Amar Sagar Lake, which was built as a water reservoir.
Though you will not find water in this lake, the temple here is one of the best sites in Jaisalmer.
The Jain temple here is called Adeshwar Nath Jain temple and is dedicated to the Jain tirthankar Parswanath.
It was built in 1928 by a rich trader. You will see the most stunning temple architecture in this temple.
Right from the entrance halls to the domes, everywhere you will see superb carvings on sandstone, beautifully crafted sculptures and fantastic carved domes.
Inside there are figures of animals and birds, and statues of Jain tirthankaras. The pillars have beautiful sculptures and figures from Jain mythology.
Pay special attention to the jharokhas and delicate latticework or jaali designs on the jharokhas.
5. Shri Bhadariyaji Mata Temple
77 km from Jaisalmer, Shri Bhadariyaji Mata Temple is one of the beautiful temples you can visit near Jaisalmer.
An interesting feature of this temple is the absence of a shikhar or central dome, which is generally found in all Hindu temples.
However, this temple is a magnificent built structure, devoted to Goddess Bhadariyaji.
Maharaj Gajsingh of Jaisalmer built this temple to celebrate victory of Jaisalmer over Bikaner in a battle.
The temple has sculptures and carvings that are so detailed that you cannot help but feel awed by the excellent artisans and craftsmen who worked day and night to build this temple.
6. Khetpal Temple
Close to Bada Bagh chhatris, Khetpal Temple is so unique temple to see near Jaisalmer.
It's just 7 km from Jaisalmer, and here you will find the priest to be a woman.
The temple is special as newly wedded couples come here to get blessings before their married life.
Married couples have to do pooja here.
7. Kale Dungar Rai Temple
This temple is situated in a remote region, 45 km from Jaisalmer city.
The temple is devoted to a local deity believed to be an incarnation of the divine Mother Goddess.
As the temple is situated on a hill, which appears black in color, it's called Kale Dungar Rai Temple.
The temple is fantastic to look at and here you may enjoy the wonderful architecture on yellow sandstone.
Intricate carvings and interiors with beautiful sculptures will attract you instantly.
Many devotees come here to pray to the goddess, and to enjoy untouched beauty of the Thar Desert.
8. Mukteshwar Mahadev Temple
Among the few Hindu temples near Jaisalmer devoted to Lord Shiva, Mukteshwar Mahadev Mandir is a wonderfully clean temple where you will feel relaxed in the peaceful ambience.
Its located close to Gadisar Lake, and is located within 2 km from Jaisalmer city centre.
Greenery all around this temple will make you feel refreshed.
Its structure is made of yellow sandstone, and though it looks to be a simple temple, you will feel the beauty of its architecture if you visit the temple from within.
Come on Mondays to this temple, and you will be able to watch the shivling decorated with colourful ornaments and garments.
You can visit this temple on your way to Gadisar Lake.
9. Jai Visu Mata Temple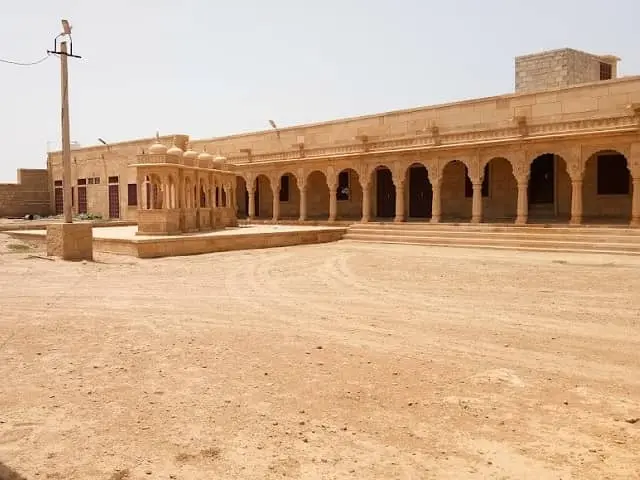 This temple is located just 2 km from Jaisalmer, and is close to Gadisar Lake.
The temple has wonderful yellow sandstone architecture, with beautiful chhatris (umbrella shaped domes) towering over the structure of the temple.
There is greenery and a cool and peaceful lakeside ambience will refresh you while visiting this temple.rd